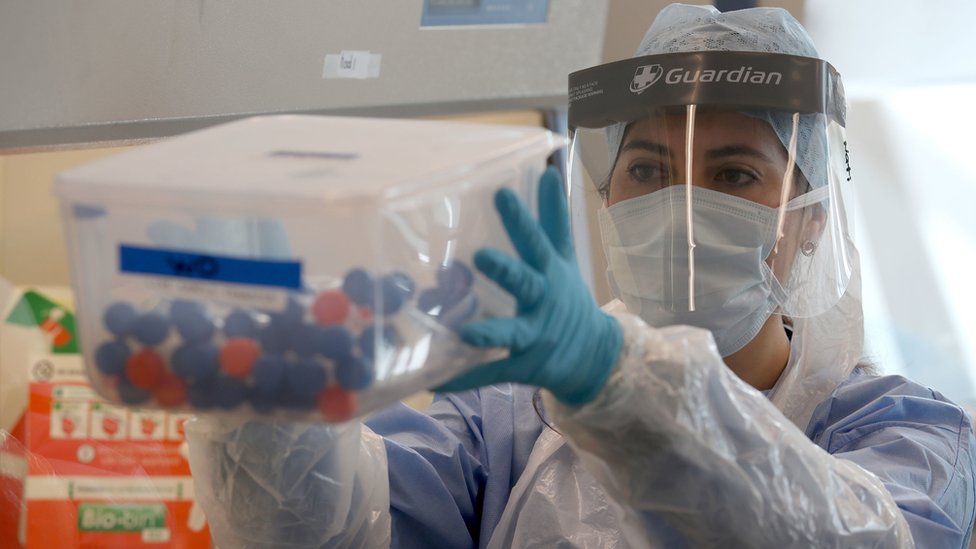 Two new "mega labs" will open in early 2021 to try to double the UK's daily coronavirus testing capacity, the government has said.
The sites – at Leamington Spa in the Midlands and another at an unconfirmed site in Scotland – will increase testing capacity by 600,000.
The latest data shows current capacity is around 519,000 – although the number of tests actually processed is lower.
Meanwhile, Labour is calling for a national plan to roll out the vaccine.
Labour leader Sir Keir Starmer said the vaccination programme will probably be the largest logistical operation since World War Two – and called for a plan setting out who will be eligible for a jab and when.
Testing is considered a key way to control the epidemic, but the government's system has experienced setbacks during the pandemic.
In recent weeks, the government has started to pilot mass testing – including people with no symptoms – using a new type of rapid swab tests which do not need to be sent to a lab.
However, the bulk of the UK's testing still uses the standard swab test that need to be analysed in a lab.
Announcing the two new "mega labs", the government said they will use technology to speed up the process – for example through automation and robotics.
"This means more tests will be processed more quickly and at a lower cost, and therefore faster turnaround times for test results," the Department of Health said.
And the sites will create up to 4,000 jobs, with the labs also being used to process tests for other illnesses including cancer, cardiovascular and metabolic diseases.
They would each add 300,000 to the UK's daily testing capacity – defined as how many tests can be processed in the lab each day – when operating at maximum.
The testing capacity is different to how many tests are actually processed. For example, the latest figures for Friday showed that although the UK's capacity was 519,951, the number of tests carried out was 379,955.
Officials have previously said it is natural that not all the capacity is used up, and there needs to be flexibility in the system to cope with surges in demand or problems with equipment or staff.


On the face of it the planned new "mega labs" will mark a significant boost to UK testing capacity. The current capability of 500,000 tests a day will be more than doubled when the two labs are up and running.
But the big unanswered question is when?
The timing is vague with only an aim for an opening early next year. The site for the Scottish lab has not yet been announced.
Previous pledges on testing capacity have not always been met.
A new "lighthouse lab" at Charnwood in the East Midlands was due to open in early October.
That didn't happen although government sources say it will come online "in the coming months" along with three others.
Plans are one thing. Delivery is another. More details of the "mega labs" will be closely scrutinised when they are published.

"We didn't go into this crisis with a significant diagnostics industry, but we have built one, and these two mega labs are another step forward," said Health Secretary Matt Hancock.
"These mega labs are future-proofing our national infrastructure to respond to future epidemics and improving care for other diseases."
The Scotland lab – which will be rolled out after Leamington Spa – will create about 1,800 jobs, the Scottish Health Secretary Jeane Freeman said.
Separately, the NHS announced it is launching 40 clinics specialising in "long Covid" which will start opening at the end of November. The condition is thought to affect more than 60,000 people in the UK.
'Normal by next winter'
Meanwhile, hope of a Covid vaccine being rolled out continues.
At the weekend, the co-founder of pharmaceutical company BioNTech, whose vaccine with Pfizer has shown positive early results, said life should be back to normal by next winter.
Prof Ugur Sahin said if everything continued to go well, the vaccine would begin to be delivered at the "end of this year, beginning of next year".
Labour's Sir Keir has called on Boris Johnson to publish a national action plan for rolling out a vaccine "that harnesses all of the talents of the British people: our businesses, nurses, doctors, scientists and public servants".
He said the government should consider supporting councils to refurbish town halls or sport centres into local vaccine clinics, and also launch a nationwide public health campaign to crack down on vaccine fake news.
"We are world leaders in vaccines, and I believe we should be aiming for a world class programme for rolling it out," he said.


Last week, BioNTech and Pfizer became the first vaccine developers to share preliminary analysis that showed their vaccine could prevent more than 90% of people from getting Covid-19.
Their vaccine is one of 11 in the final stages of testing.
However, there is no data yet to show how well the jab works in the elderly, and it is also not known if it stops people spreading the disease, as well as getting sick.
The UK has ordered enough doses for 20 million people. But it will not be released for use in the UK until it passes final safety tests and gets the go-ahead from the Medicines and Healthcare products Regulatory Agency (MHRA).
The agency's head has said it would not lower its safety standards despite the need to get a vaccine quickly.
The UK government announced another 24,962 confirmed Covid cases on Sunday, as well as a further 168 deaths within 28 days of a positive test. It takes the UK's number of people who have died to 51,934.