Leaders in the Black Lives Matter movement are pushing a radical agenda, Vice President Mike Pence has alleged, citing how activists want to defund the police.
Pence, a Republican, was pushed repeatedly during an appearance on CBS "Face the Nation" on why he wont say "black lives matter," a phrase that activists say is a way of elevating concerns over what they describe as systemic racism.
Pence said he finds Dr. Martin Luther King Jr. an inspiration and noted he traveled to Kings home church in Alabama with Rep. John Lewis (D-Ga.) in 2010.
"I cherish the progress that we have made toward a more perfect union for African Americans throughout our history. And Ive aspired throughout my career to be a part of that ongoing work. Its really a heart issue for me," Pence said.
"And as a pro-life American, I also believe that all life matters, born and unborn. But what I see in the leaders of the Black Lives Matter movement is a political agenda of the radical left that would defund the police, that would—"
CBS reporter John Dickerson interrupted, saying: "Leave that out of it. Just the phrase."
Pence continued, saying: "—tear down monuments, that would would press a radical left agenda that, and support calls for the kind of violence that has beset the very communities that they say that theyre advocating for."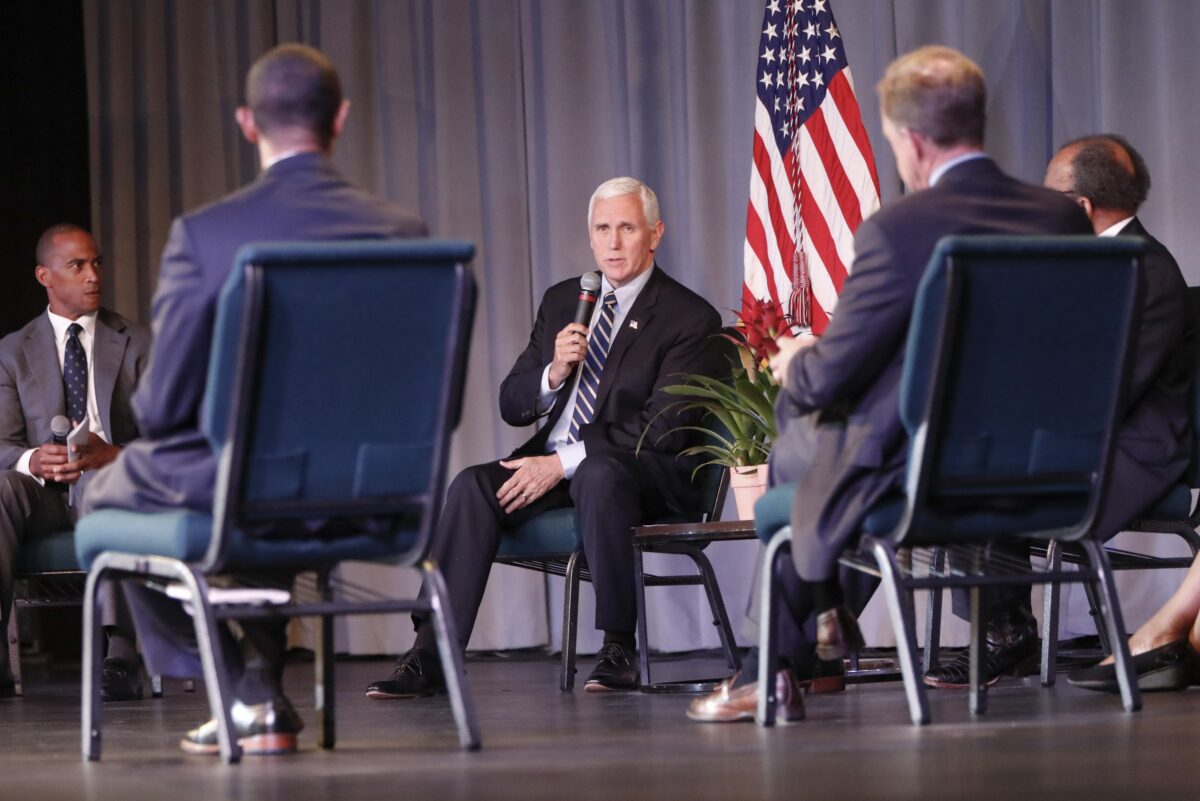 "Ive literally met with African American leaders around this country and in the national capital area whove—who made it clear to us they—they want law and order. They want peace in our streets," Pence added.
Dickerson asked Pence: "So you wont say black lives matter?"
"John, I really believe that all lives matter," Pence responded. "And thats where the heart of the American people lies. And were going to continue to stand strong. Were going to continue to stand strong with Americans that want to see us come together as a nation. And were going to carry that message all the way to November and for four more years."
The Black Lives Matter Global Network, a global nonprofit that was founded in 2013 after George Zimmerman was acquitted of murder in the killing of Trayvon Martin, didnt respond to a request for a response to Pence.
The group says its mission "is to eradicate white supremacy and build local power to intervene in violence inflicted on Black communities by the state and vigilantes."
Black Lives Matter activists are pushing to defund police departments across the United States and some have said they want the departments abolished, a situation thats unfolding in Minneapolis.
Leaders in the movement have declined to condemn the rioting and looting thats taken place in tandem with protests over alleged police brutality and racial injustice.
Hawk Newsome, a New York-area leader of the group, drew criticism, including from President Donald Trump, after saying last week: "If this country doesnt give us what we want, then we will burn down this system and replace it."
Trump called the remarks treasonous. Newsome told The Epoch Times that hes open to meeting with the president.