A man apprehended on suspicion of killing a photographer at a park occupied by protesters participated in a number of recent protests, officials said.
Steven Nelson Lopez, 23, was arrested on charges of murder and first-degree wanton endangerment.
"This man had been participating in the protests since they began and he had been arrested a couple of times over the past several weeks," Interim Louisville Police Chief Robert Schroeder told reporters at a press conference Sunday.
"He had been repeatedly asked by other members in the park to leave due to his disruptive behavior."
Showing surveillance footage at a press conference, officials said Lopez late Saturday fatally shot Tyler Gerth, a 27-year-old photographer, at Jefferson Square Park in Louisville.
"A man opened fire from the edge of the protest area at about 9 p.m., resulting in several people firing weapons and chaos for those at the park," Louisville Mayor Greg Fischer, a Democrat, told reporters.
"It is just difficult to comprehend why things like this happen," Fischer said, adding later: "Whether they were there at the time of the shooting or not, I know the sadness of those who have been organizing and participating in peaceful protest for racial justice. This is absolutely not what they wanted, or any of us wanted."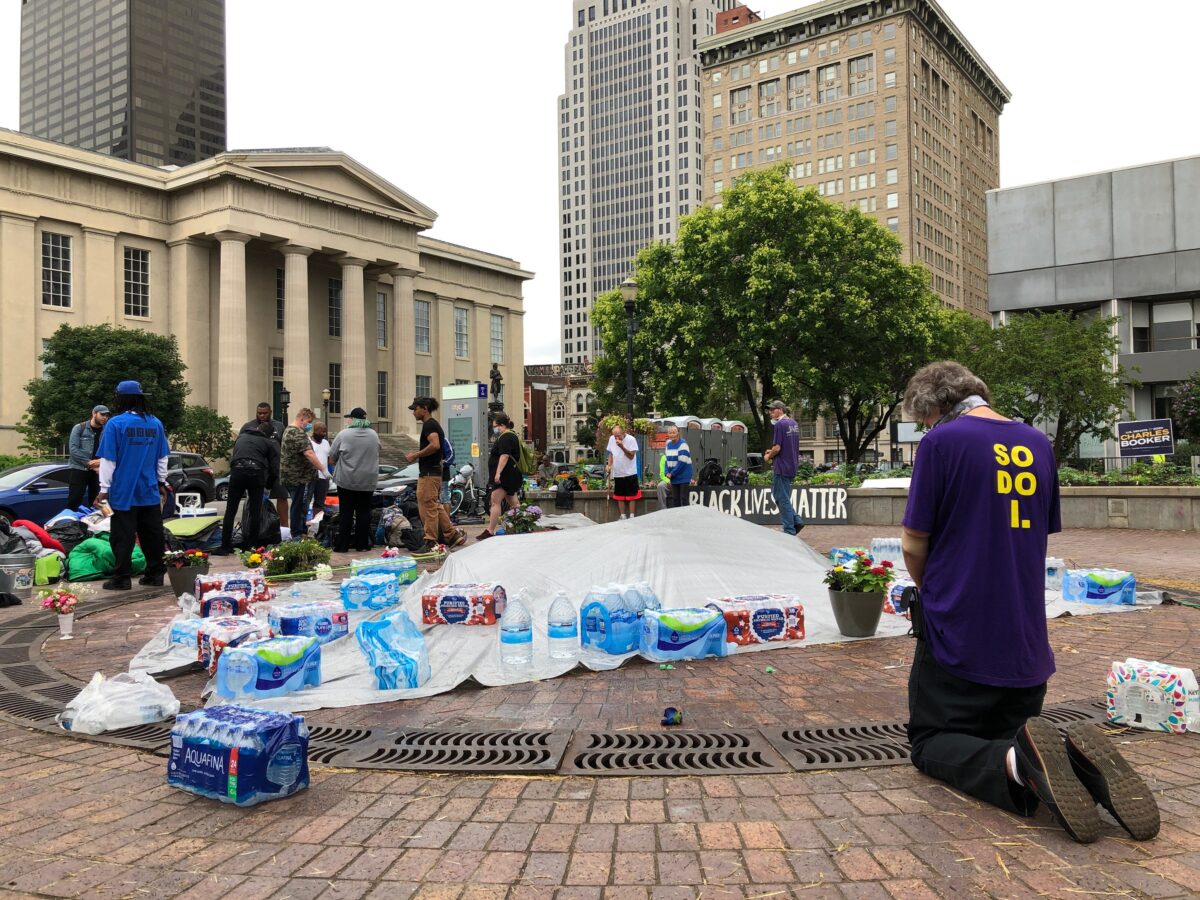 Deputies from Jefferson County Sheriffs Office responded quickly and began treating victims while police officers were on the scene within four minutes receiving a call.
Surveillance video showed a man authorities said was Nelson at the corner of the park brandishing a weapon. The man, dressed in black shorts and a t-shirt, and carrying a dark-colored backpack, appeared to be in the process of being pushed out of the park by several people before pulling out the gun.
After he did so, the people scattered as Nelson fired multiple shots.
Bystanders also captured the shooting on cell phone cameras, giving officials multiple angles to work with as they worked to identify the shooter.
"Tyler was incredibly kind, tender-hearted and generous, holding deep convictions and faith, "Gerths family said in a statement to the Louisville Courier Journal.
Multiple other people in the park were armed at the time of the incident. Investigators are still working on figuring out everyone who may have fired during the situation.
Following the shooting, the Louisville Metro Police Department said conditions in the park "have become increasingly unsafe."
"While most protesters in the park have been largely peaceful, things changed last night when shots rang out in the park, leaving one dead and one other shot," the department stated.