Memo to the AFL: the MCG is not a library
Your ads will be inserted here by
Easy Plugin for AdSense.
Please go to the plugin admin page to
Paste your ad code OR
Suppress this ad slot.
I once took an American friend to the football. I was new to Melbourne and she was new to the country. Perfect introduction for both of us to the game and the MCG. It was Collingwood versus St Kilda. Not long into the game we realised we were caught between two warring tribes. Comments started to rise, tempers to fray, until one detonated the equivalent of an atomic bomb, and screamed, "Remember '66!"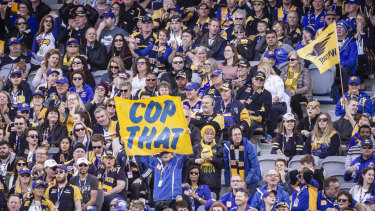 How odd, I thought, whats the invasion of England by William the Conqueror to do with this? Sure there are battles on field, but its not the Battle of Hastings. Still, knowledgeable fellow. An early version of the history wars perhaps.
But it was too much. A fired-up bloke in black and white jumped the seats to get to the other fired-up bloke in red, white and black behind us. Fists were thrown, limbs went akimbo, others dragged them apart and steadied them back to their seats. My friend and I left for safer ground. It was only later I learnt the significance of the year. A point victory to St Kilda in the grand final. Such passion, this time turned to violence, drawn from a well decades earlier.
Passion runs deep. Its the barracking, the reaction, the urging-on, and the disgust. The disgust can be ugly. So much shouting, so much anger, and as the Adam Goodes documentary, The Final Quarter, has shown, so much racism.
Advertisement
Where would the game be without the noise? Diminished certainly, a whisper of its potential to excite both spectator and player. But equally so, where would the game be with less noise, if you could yell and boo, but only to a certain decibel level? How can you regulate the excitement? Designate stands to different levels: the 30-decibel stand, the 60-decibel stand, the 90-decibel stand, the Manowar-decibel level?
Your ads will be inserted here by
Easy Plugin for AdSense.
Please go to the plugin admin page to
Paste your ad code OR
Suppress this ad slot.
Magpies fan Simon Grech recently found out at the MCG. He says he was told by police he was barracking too loudly. Jordan De Goey had just scored. Turn the volume down or be ejected. Others hadnt shared his vocal enthusiasm.
Grech felt aggrieved. He told The Age: "Its getting beyond a joke. Im not at the ballet, Im at the footy. For the whole second half I didnt say boo. They used the words unsociable barracking or something like that … do they want us to wear seat belts now so we cant jump up?"
The conditions of entry to an AFL game forbid patrons from engaging "in any conduct, act towards or speak to any player, umpire or other official or other patron in a manner, or engage in any conduct, which threatens, offends, insults, humiliates, intimidates, disparages or vilifies that other person on any basis including, but not limited to, that other persons race, religion, colour, descent or national or ethnic origin, special ability/disability or sexual orientation, preference or identity".
Patrons also cannot "interfere with the comfort of other patrons or their enjoyment of any of the matches or other activities at the venue, or use indecent or obscene language or threatening or insulting words, or otherwise behave in a threatening, abusive, riotous, indecent or insulting manner".
The decibel level that could lead to eviction seems couched in the phrase "interfere with the comfort of other patrons or their enjoyment". Now it would seem to me that merely losing would be enough to interfere with one half of the crowds enjoyment. The MCG is not a library. It is a colosseum of epic dimensions and drama. One simply cant put a lid on it, nor would one to. Its a passion play on and off the field.
That said, foul words and aggressive body language can intimidate, harass, and frighten people. The game may be gladiatorial bRead More – Source
[contf] [contfnew]
[contfnewc] [contfnewc]