Say goodbye to old-school: Nothing soft about AFL's new masculinity
Football is a broad church. Through a lifetime in the game Ive shared a locker room with just about every kind of character you can think of. From the macho alpha to the demur pacifist, the cliche to the eccentric, and everything else in between.
So much of our attention is drawn to the extremes these days – in life and in the game. The superstars and the troubled. With 800 footballers between the ages of 18 and 35, we will never be short of newsworthy fodder from those who fall out of line.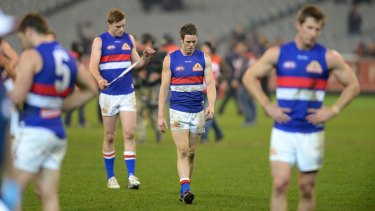 With growing unease around the amount of anxiety in professional football ranks, and the human nature of young men taking risks through self-medicating, you might be in for a bumpy ride if these stories unsettle you.
Its not all doom and gloom, though. I believe a new kind of athlete is emerging, one that may have been in the minority only a generation ago, yet could soon be in the majority.
Advertisement
Were seeing a new kind of masculinity in the ranks of the AFLM. Each generation evolves from the one just gone, but this change in culture is as stark as any I can recall.
In 2000, St Kildas warrior Max Hudghton emptied the contents of his drink bottle on his face to hide his tears after the Saints were narrowly beaten. The culture of that time was to hide emotion from the opposition and the outside world, because it was seen as weakness to be used against the team and the individual. I think we can assume Max may have also been ashamed of sharing that level of emotion so publicly.
Times have changed. Might we now see Maxs tears as the release of tension from a player who had just exhausted every bit of himself on the ground for the jumper he loves?
The leaders in the playing ranks of current AFLM clubs are now commonly no longer afraid to lay themselves bare in front of their teammates. Its not an absolute, but the trajectory is shifting towards players who now use their drink bottles solely for a drink instead of a mask. This is a huge cultural shift, especially when we consider the nastiness that permeates our modern world, particularly online.
I watched this shift from inside the walls of my old footy team when Luke Beveridge arrived at the Western Bulldogs, and saw how the Tigers took the torch and made it their own under Damien Hardwick and Trent Cotchin and a similar spirit almost took Nathan Buckleys Magpies all the way. No doubt theres others, too.
From a different perspective now in the media, I see it and hear it all the time. Ive spoken with captains and leaders of last years finalists, and heard in their voices a warmth and tenderness that was unthinkable when Max Hudghton was running around.
As outsiders from clubland we occasionally get a glimpse of this new kind of footballer. Jack Watts emotional post-game interview after the Powers stirring round-one win was just the latest example of this evolving masculinity.
Jack gave us a brief insight into his recent turmoil and hinted at the scarring of his much-criticised career. It was raw, and left observers feeling that we might be witnessing the football redemption of the former No.1 pick, and not a sign of a soft underbelly – a knock that Jack has endured for a number of years.
Which brings us to the point. The old school, I expect, will rail against the tears and hugging as evidence of "players gone soft", or maybe worse. But this emotional maturation might in fact prove to be the exact opposite.
The toughness required to play and survive in this competition is as fierce as it has ever been.
Vulnerability is now one of the buzz terms to bring a team of young, male footballers together quickly to form special bonds and a wRead More – Source
[contf] [contfnew]
[contfnewc] [contfnewc]