Pro-Putin activists say warning system should prevent extremist reposts on the web
Experts have proposed creating a system to find extremist text and pictures on the web and social networks and mark them with special warning, to avoid unwitting reposts from users.
It is hoped the development and introduction of such a system would bring down the seemingly excessive number of convictions for spreading materials inciting hatred and strife, an issue that has recently resulted in a lot of concerned comments from mass media, rights groups and politicians, including Vladimir Putin himself.
Read more
The experts from the United Popular Front movement – a broad coalition of people who share Putins views on Russias development and its role in global politics but prefer not to join the main pro-Putin political party United Russia – also proposed that such system must be created and maintained by companies that own social networks on the basis of the federal list of extremist materials.
Also, the United Popular Front reported on Tuesday that the movement would continue to study the situation and examine cases where people may have been wrongly charged or convicted.
In particular, the activists criticized the current situation when a citizen can be prosecuted for spreading images of Nazi symbols, saying that courts had already issued sentences in such cases without looking into the context of reposts. The Nazi symbols were present on images that had clearly anti-Nazi meaning and if such principles were applied universally no TV channel could broadcast any film about the WWII without violating the law, they said.
Criminal liability must be applied only in cases when such demonstration or reposting of Nazi symbols is done together with actual extremist propaganda, which the groups experts propose to define as "Spreading the materials and information that create an attractive image of Nazi ideology in peoples minds as well as ideas that such activities are acceptable in society."
Read more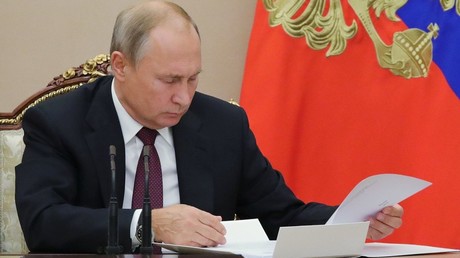 Under current Russian law, inciting hatred and strife as well as degrading human dignity in public speeches, in mass media and also in internet publications, can put an offender behind bars for up to six years. However, over the past few years the number of such cases grew in an explosive pattern and often people get convicted for simple reposts of some materials on the internet.
The situation has seen intervention from mass media, rights activists and politicians and later from the Supreme Court which recommended in September that judges look more thoroughly into the cases and only pass sentences after proving that suspects had actual criminal intent.
Eventually, the matter was brought to Putins attention and in early October the president drafted amendments to the Russian Criminal and Civil codes ordering that criminal responsibility for hateful speech or internet posts should be replaced with civil responsibility when the action is committed for the first time and does not pose a serious threat to society.
Subscribe to RT newsletter to get stories the mainstream media wont tell you.
[contfnewc] [contfnewc]